I've spoke and interacted with so many bloggers, consultants, coaches and freelancers over the years. There are so many people out there doing amazing things. And I see tons of info out there for freelancers - how to market yourself, upping your Instagram game, time management, finding clients and that's just the beginning. But I rarely see legal info for freelancers.
As a freelancer, you're in that "in between zone" - you're not just making a few bucks here and there so it's no big deal, but you also don't have that comfort level of working for an employer who will take care of things like liability and tax issues.
So basically - it's all on you.
It's up to you to have solid contracts. It's up to you to make sure you are paying the right amount of taxes. It's up to you to be sure that your website has all the required legal statements.
Oh and this is on top of everything else you're already doing.
It's a lot to worry about - I get it. But the best time to educate yourself on the legal side of things is before you encounter an issue. Before you get sued, before your client decides to not pay you, before you find someone stole your graphic design work.
You get my point.
Just because no one is talking about the legal side of blogging doesn't mean that it's not important. That's why I created this course. You get all the legal info you need to know today to avoid potential mistakes in the future. You have lifetime access to all the course videos and bonuses (plus any future updates to the course), so this priceless information will be at your fingertips anytime you need it.
What You Get:

This course is broken down into a series of short videos. You can watch all the course videos at once or just watch those videos that are applicable to your business at this time. You have lifetime access to the course materials and can come back to them at any time.
There are seven lessons broken down into over 25 separate videos so you can watch just what you need on your own time. Plus, since the law is always changing I'll be updating the videos or creating new videos as necessary. And you'll get lifetime access to those updates.
These lessons are valued at over $2,000! Lawyers charge hundreds of dollars per hour but you get all this legal information in one place without needing to hire your own personal attorney today.
+ The Bonuses:
One hour legal consultation* with me! I'm a Pennsylvania licensed attorney and am here to answer your burning legal questions. Remember - lawyers charge hundreds of dollars an hour for their time and services. You get an hour with me included as an amazing bonus to Blog and Be Legal Premium! (Reminder: enrollment for Premium is only open until January 31, 2017 and won't be available again until later this year!)
Legal templates for consultant/freelancer contract, joint venture webinar contract, disclosure statements, privacy statements and terms and conditions for your blog. These templates together sell for $600 on my blog, but they are all included as an epic bonus for this course!
Some of us learn better with written materials, so I've also included written guides and checklists for some of the topics. You can just download the guides to refer back to whenever you need.
Plus you'll need to brainstorm for some of these topics too. Because of this, I'm also throwing in some easy downloadable worksheets to get you thinking and an income tracking spreadsheet to keep you on track for tax time. Download these to get your thoughts flowing and your money tracked!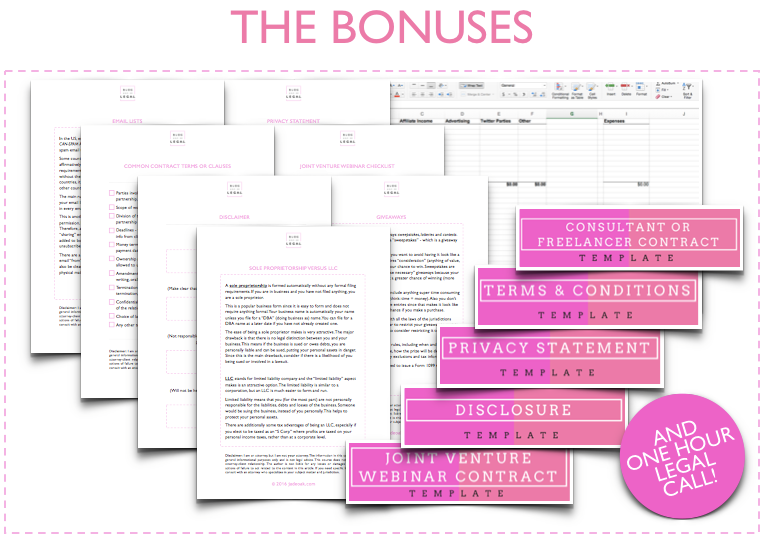 *Course must be paid in full before legal consultation call. The call can be scheduled at any time (we will both go through our schedules to find the perfect time) if you purchase the one-time payment option. If you pay via payment plan, all payments must be received before the call will be scheduled. Calls will be held via phone or Skype.
(Reminder & Legal Disclaimer - I'm a US based and licensed attorney, so this course was created with American bloggers and business owners in mind. This course does not address the law in other countries or international legal issues. Additionally, this course is meant for educational and informational purposes only and does not constitute legal advice. Purchasing and taking this course does not create an attorney-client relationship and you should always consult with an attorney before acting upon any information presented in this course.)